Liz Bal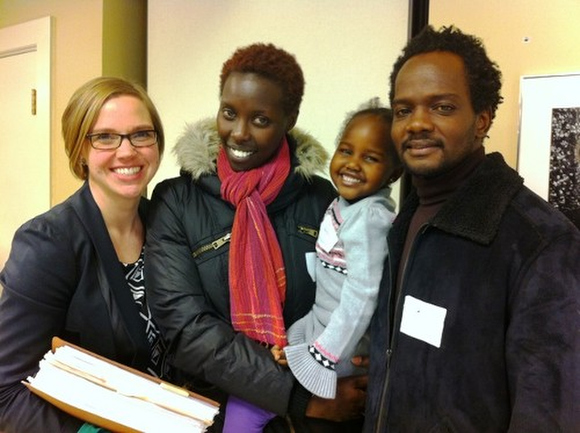 ck Monsma, Legal Services Director, Justice for Our Neighbors
I'm guessing you and I settled in Grand Rapids for similar reasons: our strong economy rooted in agriculture and entrepreneurship, great schools and freedom to fully express our religion.  My own parents moved to Grand Rapids from the Detroit area in the early 1970s for my dad's job, but also because it was such a great place to raise kids.  Why wouldn't immigrants want to live in Grand Rapids as they have since the 1820s?  The reality is, it can be very difficult being an immigrant in Grand Rapids.  Before listing what I'd like to see for 2016, let's praise our former Mayor Heartwell for proclaiming Grand Rapids a "Welcoming City" in 2015.  That's a great first step, but I think Grand Rapids can do more to show how welcoming we really are.
1. Increase refugee resettlement.  You've heard a lot about the Syrian refugee crisis lately — it is heart wrenching to watch.  But we don't have to just watch.  What if we — through our wonderful new Mayor Bliss — joined the cities of Detroit and East Lansing to affirm that we are ready and willing to resettle Syrian refugees?  West Michigan already welcomes hundreds of refugees from around the world each year, but we can do more to help families fleeing violence and to promote our city's commitment to diversity and inclusion.
2. County identity cards: It is impossible for undocumented immigrants — and very difficult for some documented immigrants — to obtain a Michigan driver's license or state identity card.  Not having a driver's license or photo ID makes every day tasks challenging.  Even getting a GR library card involves showing two forms of ID if you don't have a driver's license (eg., a photo ID and something that shows your name with current address). This just isn't possible for some people in our community. In order to overcome this problem, Washtenaw County in Southeast Michigan has implemented its own County ID card program. Law enforcement was supportive of this program, because it provided a way for the police to quickly identify a person but it also allows people to be less fearful of contacting the police to report a crime.  Let's start a similar program in Kent County!
3. Combating human trafficking/domestic violence.  Immigrants — especially undocumented immigrants — are some of the most vulnerable people in our community. That puts them at a higher risk for human trafficking and domestic violence.  This month (January) is Human Trafficking Awareness Month and Domestic Violence Awareness Month is in October.  I'd like to see our city leaders, including law enforcement agencies, set the bar for not only become more aware, but being more proactive on these issues.
4.  Law enforcement's relationship to our immigrant community.  I'd also call on local law enforcement agencies (LEA) to improve their relationship with our diverse immigrant communities. One way they could do that is by streamlining internal processes to assist immigrant advocates in our requests for "helpfulness certifications" for temporary visas for victims of domestic violence and other serious crimes in the United States (called the "U Visa").  We already have a great network of LEAs who are willing to work with us on these sensitive cases, but we can do better for the most vulnerable population in our area.  Imagine how much more safe we would ALL feel if our judges, prosecutors, and police officers made it clear to immigrants (especially women and children) that they should report crimes without fear that they will be deported for speaking up.  We would all win.
To read whole piece by ANNA GUSTAFSON | THURSDAY, JANUARY 07, 2016