US government deporting Central American migrants to their deaths
Guardian investigation into consequences of Obama's migration crackdown reveals US deportees have been murdered shortly after return to El Salvador, Guatemala and Honduras, with study saying as many as 83 killed since 2014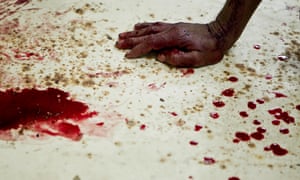 The US government is deporting undocumented immigrants back to Central America to face the imminent threat of violence, with several individuals being murdered just days or months after their return, a Guardian investigation has found.
The Guardian has confirmed three separate cases of Honduran men who have been gunned down shortly after being deported by the US government. Each was murdered in their hometowns, soon after their return – one just a few days after he was expelled from the US.
Immigration experts believe that the Guardian's findings represent just the tip of the iceberg. A forthcoming academic study based on local newspaper reports has identified as many as 83 US deportees who have been murdered on their return toEl Salvador, Guatemala and Honduras since January 2014.
Human rights groups warn that deterrent measures taken by the Obama administration after last year's "surge" in arrivals at the border of unaccompanied children from Central America have triggered a series of powerful unintended consequences across the region.
To read more >>http://www.theguardian.com/us-news/2015/oct/12/obama-immigration-deportations-central-america?CMP=ema_565a